How to Buy a House with a Bridging Loan
Jack Barrett

20 July 2023
At Bridging Loans Direct, we can help you utilise a bridging loan for the purchase of a house. We're your expert resource for bridging loans and financial property transactions in the UK and Europe.
House Purchase Bridge Loan Service
Loan Amount: We offer bridging finance from £50,000 to £25 million, catering to various property purchase needs. Meaning you can borrow up to this amount – but the loan amount you are offered can vary based on a number of factors; your financial situation, the lender in question, your credit history, etc.
Financing Options: Our bridging loans cover downsizing, upsizing, auction purchases, short-term lease finance, and more.
Interest Rates: Enjoy exclusive interest rates from 0.43% APR, ensuring favourable borrowing terms.
Valuation Option: Properties up to £1 million can benefit from a £99 valuation option.
Repayment Flexibility: Explore interest roll-up options for added flexibility in repayment.
---
If you're considering buying a house and need quick and flexible financing, a bridging loan could be the ideal solution. In this comprehensive guide, we'll explore everything you need to know about using a bridging loan to purchase a property, from understanding the process and eligibility criteria to the pros and cons of this short-term financing option. With that said, let's take a look at why a bridge loan is a popular solution for many homebuyers.
What is a Bridging Loan for Buying a House?
A bridging loan is a short-term financing option designed to bridge the gap between the purchase of a new property and the sale of your existing one. It provides you with the necessary funds to secure your dream home quickly, without waiting for the lengthy process of selling your current property. At Bridging Loans Direct, we specialise in raising large bridging loans on residential and commercial property transactions. However, for a home purchase, borrowers will want to secure a residential bridge loan - otherwise known as a regulated bridge loan. This simply means that borrowers are protected by the FCA (Financial Conduct Authority) when participating in property transactions. Additionally, regulated loans can only be used for residential property, and not for commercial property.
"In this video, I'll talk you through a recent case study - explaining how exactly bridging finance can be used to purchase a house, and how you might also buy a house with a bridging loan" - Sam O'Neil, Head of Bridging
---
How Does a Bridging Loan Work for Property Purchase?
The process of using a bridging loan for buying a house is relatively straightforward. Here's how it typically works:
Identify Your Property
Begin by finding your ideal property that you wish to purchase.
Apply for a Bridging Loan
Once you have a property in mind, apply for a bridging loan with Bridging Loans Direct. Our specialist team of bridging loan brokers will guide you through the application process.
Loan Approval and Terms
If your application is approved, you'll receive the loan amount, interest rates, and other terms and conditions.
Secure Your Dream Home
Use the bridging loan funds to purchase your new property quickly and efficiently.
Sell Your Existing Property
After securing the new property, work on selling your existing property.
Repay the Bridging Loan
Once your existing property is sold or when long-term finance, such as a mortgage, is secured, repay the bridging loan.
---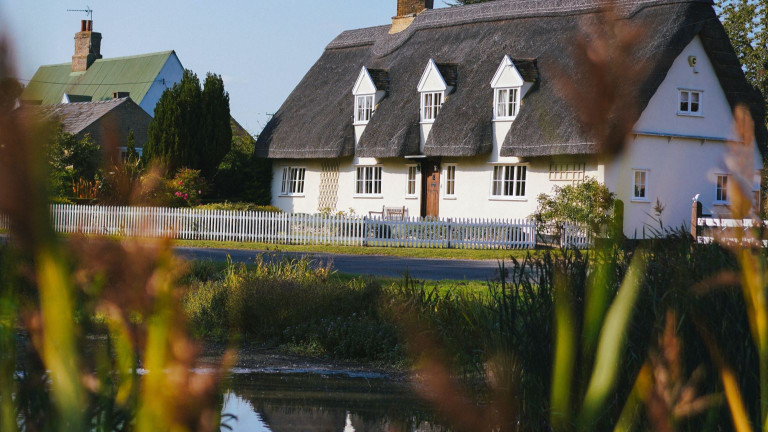 Overcoming a chain break, our bridging loan paved the way for a seamless property purchase in Staffordshire's idyllic countryside. Discover how we made it happen.
Bridging Loans Direct | Chain break Bridging Loan To Buy Home In Staffordshire Countryside - Read More »
---
Eligibility Criteria for a Bridging Loan to Buy a House
To qualify for a bridging loan to buy a house, several eligibility criteria need to be met, ensuring a smooth and successful application process. Lenders will carefully assess these factors before approving the loan. Here's a breakdown of the key eligibility criteria:
Firstly, lenders will evaluate your ability to repay the bridging loan. This assessment involves a thorough review of your income and financial stability. Demonstrating a steady income and strong financial position will increase your chances of loan approval.
Secondly, bridging loans are typically secured against the property you intend to purchase. The property itself serves as collateral, providing the lender with a level of security. As a result, lenders will consider the value and marketability of the property when determining loan terms.
Additionally, having a clear exit strategy is crucial for bridging loan approval. Bridging loan companies, or lenders, will want to understand how you plan to repay the loan once the bridging period ends. Common exit strategies include the sale of your existing property or obtaining long-term financing, such as a traditional mortgage.
Lastly, the type of property you wish to purchase will also play a role in the loan approval process. Lenders may have specific criteria for different property types, and some properties may be more challenging to secure financing for than others.
By meeting these eligibility criteria, you increase your chances of obtaining a bridging loan for buying a house. Working with a reputable and experienced broker like Bridging Loans Direct can further streamline the process, ensuring you get the best available rates and expert guidance throughout your journey.
"Meeting the eligibility criteria is your passport to a successful bridging loan application. It's about financial strength, property value, and a clear plan for repayment. Bridging Loans Direct ensures you're equipped for a smooth journey toward your new home." - Sam O'Neil, Head of Bridging
---
Advantages of Using a Bridging Loan for House Purchase
Using a bridging loan for buying a house offers several advantages.
Quick Access to Funds - Ideal for time-sensitive property purchases, such as auction properties.
Flexible Financing - Use bridging loans for various property transactions, including refurbishments and land purchases.
No Mortgage Restrictions - Bridging loans are suitable for properties that are not mortgageable. Additionally, bridging mortgages are available - allowing you to make use of all the benefits of bridging finance, and then transitioning into a traditional mortgage.
Regulated and Unregulated Options - Choose the type of bridging loan based on your property purchase purpose.
Potential Considerations - While bridging loans are beneficial, consider the following:
Higher Interest Rates - Due to the short-term nature, interest rates are higher than traditional mortgages.
Repayment Planning - Ensure your existing property sells within the bridging loan term to avoid complications.
---
Unlocking their dream home with a bridging loan, this self-employed couple bypassed chain delays and secured their ideal property. Read how they made it happen.
Bridging Loans Direct | Bridging Loan To Buy Dream Home While Waiting For Chain To Complete - Read More »
---
Looking to Buy a Home with a Bridge Loan?
Look no further - buying a house with a bridging loan can be an effective way to secure your dream property quickly. Bridging Loans Direct specialises in providing tailored bridging finance solutions, ensuring a seamless property purchase experience. With our extensive network of lender, we can find the right lender for you - with favourable bridging loan rates, and a quick-turnaround for those time-sensitive property purchases. If you're ready to explore bridging loan options for your next property purchase, contact us at 0800 368 9344 to discuss your requirements with our friendly and professional team.
---
FAQs
Do I need to have a regulated bridging loan for buying a home intended for family use?

Yes, if you plan to have family members living in the property you are purchasing, you will need a regulated bridging loan. Regulated loans offer added protection for consumers, ensuring fair lending practices and transparency.

Can I use a bridging loan to buy a property at an auction?

Absolutely! Bridging loans can be especially useful for purchasing properties at auctions. The payment for auction properties must be made within a short timeframe, typically 28 days, which may not be enough time for traditional mortgages. Bridging loans can provide the quick financing needed for auction purchases.

Do I need to pay a deposit for a bridging loan?

Yes, like traditional mortgages, you will typically need to pay a deposit for a bridging loan. The deposit amount may vary depending on factors such as the loan amount, the value of the property, and your financial situation. Typically it is around 20%-40% of the property's value. It's essential to discuss the deposit requirements with your bridging loan broker at Bridging Loans Direct to understand the specific terms and conditions.

What additional costs should I be aware of when taking out a bridging loan as a homebuyer?

When considering the cost of a bridging loan, it's essential to be aware of potential additional fees beyond the interest rates. Some common additional costs may include arrangement fees, legal fees, valuation fees, and exit fees. The arrangement fee is typically a percentage of the loan amount and covers the setup of the bridging loan. Legal fees are incurred for the legal work involved in securing the loan. Valuation fees cover the cost of valuing the property, and exit fees may apply when the loan is repaid. Bridging Loans Direct can provide a breakdown of all applicable fees and costs associated with your bridging loan.